Content can be updated at any time in the Content module.
If the content has been used in a Course, new users added to the course will immediately see the updated content.
For users that are already enrolled in the course, the updated content needs to be synchronized before it will be visible to them.
The status of the course can be seen in the course list page:

indicates that all users see the current course content

indicates that some users see a previous version of the course content.
A tip: Minor copy changes and fixes should not affect actively enrolled users. However, if you need to make significant changes to courses that are already published eg. Modifying content structure, re-ordering/removing exercises etc, it's recommended to create a new course for this, so enrolled users are not impacted.
Synchronizing content
There are 2 ways to synchronize updated content to the courses, environments or events that contain that content.
Method 1: From within the Content module
1. From the Content list, locate the content, then select Update environments in the row action menu.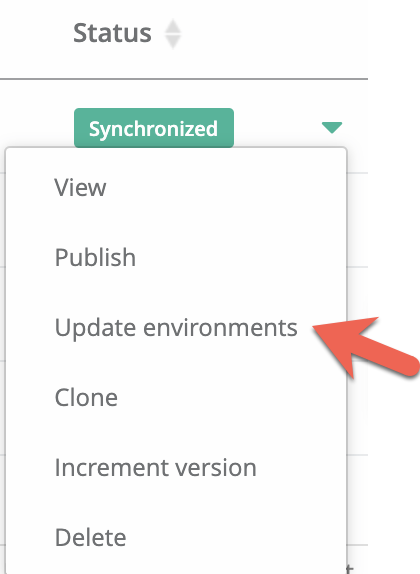 Method 2: From the course, environment or event that contains the content
From the Left Navigation menu choose Courses, and then select the course you wish to update. You will be redirected to the course details page.
Choose Update from the Action dropdown in the Top Navigation menu.